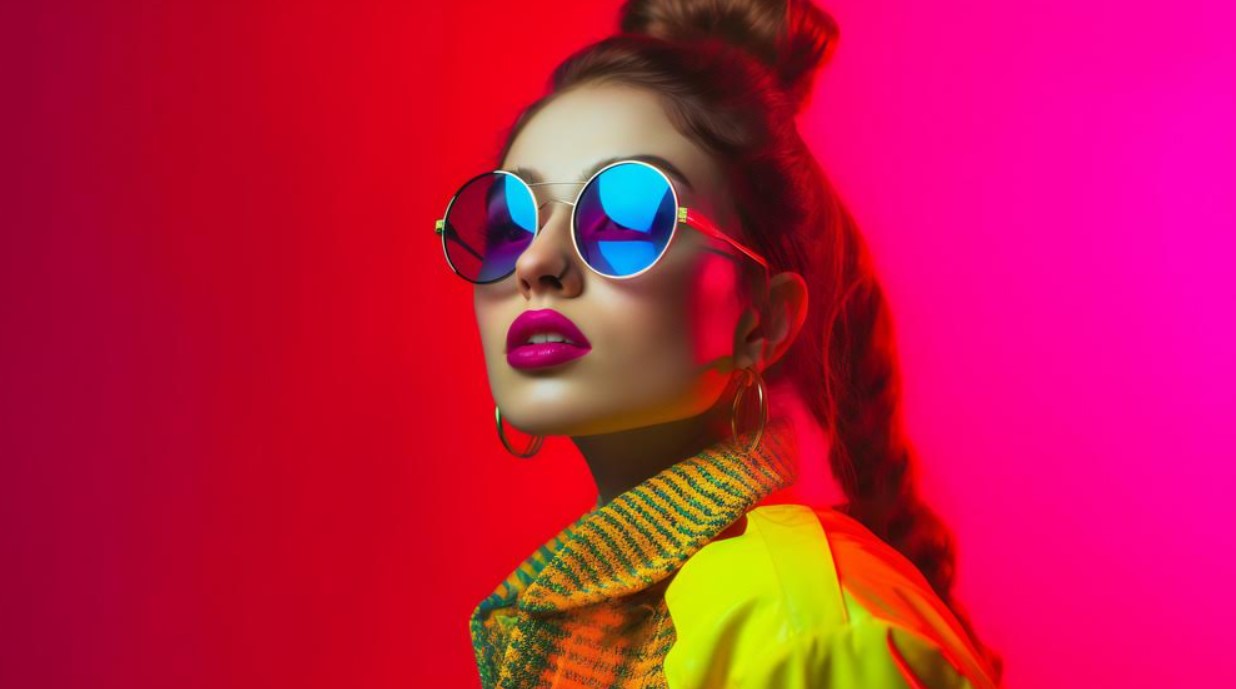 Accessories present the perfect opportunity to showcase personal style. A single bold piece can capture attention and pull together an entire outfit. From oversized sunglasses to standout handbags, statement accessories let you express your unique flair. Read on for our guide to selecting eye-catching accessories that frame your look.
Make Them Look with Oversized Shades 
We guarantee oversized sunglasses will make a dramatic impact. The increased coverage amplifies the effect of lens shape and color. When choosing super-sized shades, consider the following factors:
Lenses

– Go for gradient, mirrored or colored tint lenses. Dark lenses in oversized frames create mystery and allure. 

Shapes

– Cat eye, round, wayfarer, and shield styles work well when sized up. Avoid small aviators.

Proportions

– Balance larger faces with oversized butterfly, oval or square frames. Petite faces suit smaller oversized shapes like cat eyes. 

Details

– Seek embellishments like leopard prints, metal accouterments, and rhinestones that draw the eye.

Brands

– Invest in well-made

discount sunglasses

from reputable designers. This is according to the experts at Olympic Eyewear, distributor of wholesale sunglasses.
Fortify your oversized sunglasses collection with a range of lens colors and patterns. Store extras in your car, office, gym bag and more so you can rock eyewear impact anytime.
Carry an Eye-Catching Purse
An eye-catching handbag serves double duty as both a practical essential and wow-worthy statement piece. When selecting a bag that commands attention, look for the following:
Silhouette

– Unusual shapes like circles, triangles and crescents turn heads. So do miniature purses and oversized totes.

Color

– Vivid, saturated hues pop against neutral outfits. Metallic bags shine. Limit loud colors to smaller styles.

Texture

– Mixed materials like leather and snakeskin captivate. Details like fringe, quilting, and chainmail entice touch.

Hardware

– Striking clasps, handles and embellishments elevate a bag's allure. Go for interesting shapes, sizes, and placements.

Finish

– Glossy and iridescent treatments add sheen. Distressed and matte textures provide contrast.
For maximum impact, curate a handbag collection with a range of eye-catching styles suited to different occasions. Use strategically placed bags to direct focus and highlight aspects of specific looks.
Encircle with Dazzling Jewelry
Positioned by the face and hands, necklaces, bracelets, and rings naturally attract interest. When selecting statement jewelry, look for pieces that are conspicuously large, opulent, or unconventional.
Necklaces

– Chunky chokers and long beaded chains command attention. Unusual materials like feathers and shells intrigue. 

Rings

– Oversize cocktail rings with vibrant stones make hands a focal point. Knuckle and mid-finger bands break conventions.

Bracelets

– Wide metal cuffs pop against bare arms. Mismatched stacks provide visual variety.

Earrings

– Long fringed and chandelier styles frame the face. Hoops and climbers amplify movement.

Watches

– Choose vivid leather straps or ultra-large faces. Unusual shapes and exposed mechanisms entice curiosity. 
When layering statement pieces, vary lengths and shapes to avoid clashing. Let the most prominent jewelry anchor your look by showcasing it around your face or hands.
Top it Off with a Show-Stopping Hat
Located above eye level, nothing crowns a look quite like a spectacular hat. Make sure your headwear rises to the occasion with these style suggestions:
Women

– Go for wide-brim styles that cast dramatic shadows. Add height with crowns and asymmetric brims. Seek out textures like feathers, lace, flowers, and veiling. 

Men

– Contrast formal attire with unexpected silhouettes like porkpies, newsboys or cowboys hats. Bandanas and patterned bucket hats work for casual settings. 
Hats encourage creativity in accessorizing. Keep silhouettes interesting by alternating between structured and slouchy styles. Store extra options to switch up signature looks. 
Conclusion
Accessorizing represents a simple way to refresh wardrobe staples with a bold new point of view. Use our guide to build a collection of conversation-starting statement pieces tailored to your personal tastes. Then watch the compliments roll in.
Related Posts