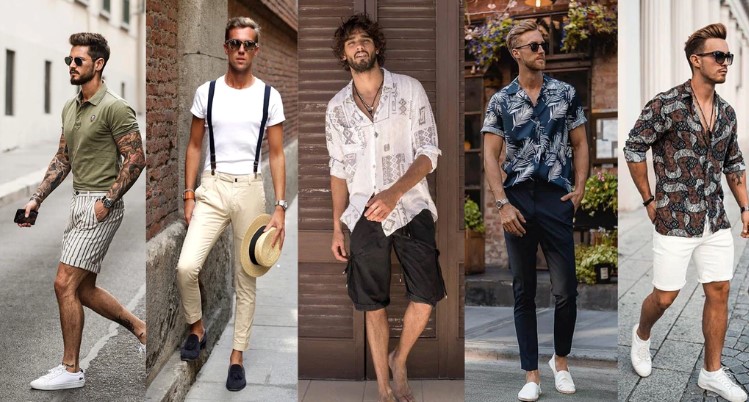 Summer is almost here again and that means we need to get our closets ready! Still, it can be quite difficult to put together a closet for the summer, and we understand that! That's why we have gathered some great tips and advice for you to give you a helping hand this summer. Want to know more? Then make sure you read this blog and that's always good to know when you want more.
What do I wear?
So what are we going to wear this summer? Well, we notice in fashion that bright colors are coming back. So we definitely recommend to have some colorful shirts in your closet. In addition, the terry polo shirt is totally in. This fabric is great for the summer and therefore they are sold a lot lately! It is important that you have colorful shirts in your closet, but also neutral colors. This way you balance the use of color well and that is exactly what you need this summer. You can then combine the shirts with a simple pair of short jeans and look for some espadrilles guys! Espadrilles are the perfect shoes for this summer, because theyre airy and comfortable! We furthermore recommend going for a more neutral color of pants with colorful shirts. If you don't do this then the outfit can become a little bit overwhelming
The right accessories
We also have some tips and advice for you regarding accessories. For example, we recommend that you go for big sunglasses this year. 80's fashion is all the rage these days and that means that big sunglasses are going to be very popular again. You will find that a lot of stores will sell these exact sunglasses so it's easy to get a pair! In addition, bucket hats are also selling very well. These cute hats come in all sorts of colors and are perfect for protecting yourself from the sun! They are light and soft and therefore perfect for during hot summer days.
Wear what you like
We can give you a lot of advice about clothing but in the end it's important to wear what you like! We recommend that you buy and wear the clothes that make you feel comfortable. If you feel comfortable and good in an outfit, than that's all you need! So don't let other people influence you and wear what you like! We wish you a wonderful summer and enjoy it!
Related Posts