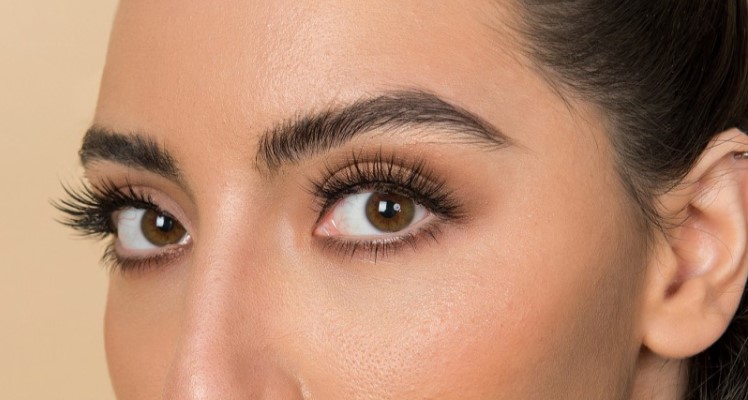 Have you ever wished for beautiful, long lashes like the models in mascara commercials? Then you've come to the right place! I will show you how to achieve the look of long, luscious, and thick lashes that will add oomph to your look day or night. From which best fake lashes to buy, how to apply them, and how to remove them at the end of the day, you'll learn everything you need to know to get the look you've always wanted but were too frightened to try.
Longer-Lasting Lashes = Individual Lashes
To begin, go to your local beauty or drugstore and get a set of "individual lashes," which are lashes that come in small bunches of 5 to 10 fibers. Each pack contains approximately 20 bunches and a small tube of glue. When compared to lashes that are only a strip of lashes, these lashes last longer and look more real.
Get Rid of the Glue
Making this approach as simple as possible will ensure its effectiveness. To that end, squeezing out a dime-size glob of glue to dip the lashes in while applying is easier than obtaining glue from the bottle each time. Clear and black glue work equally well on all lash colors for this method.
Tweezers should be used when handling.
When picking up your lashes, a pair of slant-tip tweezers works best and is much more precise than using your fingertips. Pick up the lashes by the tips with tweezers, then carefully dip the back end (the part where they are in a cluster) into the glue you've set aside. Aim for a thin, even coat rather than a thick glob, as this will affect how well they stick to your natural lashes.
Apply it on top of your lashes, not underneath them.
Once you've adequately coated the rear end of the lashes with adhesive, use tweezers to gently but firmly place the lashes on top of your upper eyelid lashes. You want the adhesive to cling to both your natural lashes and the lid. Begin from the outer corner of the eye and work your way into the center for the best results.
Keep your eyes straight.
This may seem obvious, yet it is frequently overlooked when applying lashes. You must keep your eyes open and look into a mirror to ensure that the lashes are applied evenly.
The fewer the lashes, the better.
As the old adage goes, less is always more. To achieve a natural yet dramatic look, limit yourself to four to five individual lashes per eye. The length should be at the outer borders of your eye, and the impact should be more subtle (i.e., your own lashes) near the middle of your eye.
Fix any lashes that aren't straight.
If you receive one that is crooked or just doesn't appear right while applying your lashes, toss it and try again. There are a lot of lashes in each bag, so don't try to use one that doesn't work.
Use camouflage and disguise.
Now that you've applied all of your lashes and they're symmetrical on each eye, it's time to hide your effort. This phase is best accomplished with cake eyeliner applied with an angle brush. Dip the angle brush in the cake liner and glide down the lash line where the glue and lashes meet your lid once the glue has dried.
Finish with Mascara
After applying the cake liner on both lids, add at least two coats of your preferred mascara. This is the most crucial step because it integrates the false lashes into your natural lashes and acts as a second glue to keep the false lashes in place. This stage must not be skipped at any cost!
Use an eye makeup remover to remove your lashes.
You'll need an excellent eye makeup remover when you're ready to remove your lashes without pulling out any of your own. A liquid-to-foam eye makeup remover is a personal favorite because the foam is activated without the need for water, and you may leave it on the affected region for a few minutes before rinsing. You may need to repeat the technique a few times to remove all of the lashes and makeup.
That concludes our list of the top ten natural false lash tips. This technique works for any event and will make you the envy of all your friends the next time you go out. Practice, as with any makeup or cosmetics, makes perfect, especially when it comes to false lashes.I recommend that you set aside around 30 minutes to practice a few times before wearing your lashes in public to ensure that the look is natural and that the lashes stay in place for the duration. Please keep in mind that, for the sake of your eyes, you should remove your lashes after each use and never sleep with them on.
Related Posts